The Pennsylvania Dept of Health issued updated guidelines Friday after school regarding isolation and quarantine. This will affect anyone that has been exposed to a positive case of covid in the home and anyone who was slated to return to school on Monday from quarantine. Please visit the News section on the WB website or in the WBCSD app for more information on this updated guidance. As always, we thank you for your cooperation during these trying times.

The Western Beaver County SD wishes you and your family a Merry Christmas and a Happy New Year. Enjoy the Christmas break, and we will see you on January 3rd when classes resume.
Dear Families, Western Beaver School District has become aware of a troubling post that has been shared widely this week on the social media platform TikTok. The post refers to a threat to school safety "for every school in the USA, even elementary," on Friday, December 17. The post appears to be part of a national TikTok trend and did not originate in our school district. We have heard reports from other districts that the same post is circulating in their schools. While we do not believe the threat to be credible, we are closely monitoring the situation and taking it seriously. Additionally, the district has been in contact with the Beaver and Ohioville Police Departments regarding the post. We may have an increased police presence in and around our buildings on Friday as an added precaution. This situation serves as a good example of why it is important to avoid sharing posts online that refer to school safety threats. Even if they are not credible threats, they can cause a great deal of stress and anxiety for our students, families, and staff. We ask our families to monitor their children's social media activity and speak with them about proper behavior online. If you or your child become aware of any potential threat posted to social media or anywhere else, please notify a school staff member or trusted adult right away. As always, thank you for your partnership as we work to ensure a safe, secure, and positive learning environment for our students.

On December 10, the Pennsylvania Supreme Court struck down the Acting Secretary of Health's school masking order. The guidance provided to districts is that they should follow their approved Health and Safety Plan. As students and families consider whether to mask, you should take into consideration the county transmission level and the percent positivity at this time. Information regarding Pennsylvania county transmission rates and percent positivity can be found below:
https://www.health.pa.gov/topics/disease/coronavirus/Pages/Monitoring-Dashboard.aspx
Western Beaver's approved Health and Safety Plan can be found below:
https://core-docs.s3.amazonaws.com/documents/asset/uploaded_file/1391001/Approved_Plan_July_14_2021.pdf
Additionally, students and families are reminded that districts are still required to conduct contact tracing, exclude from school any student/staff that are, based on CDC and PA DoH definition, deemed to be in close contact to positive cases. Students and families are also reminded that the lifting of Pennsylvania's masking order does not lift the federal masking order requiring all passengers on public transportation are to be properly masked.

On behalf of the Western Beaver faculty, staff and administration , we wish you and your family a Happy Thanksgiving! School will resume Tuesday, November 30th.

November 11, 2021 - Masking Update There has been a great deal of activity in the courts and through the Governor's Office this week regarding the August 31, 2021, Acting Secretary of Health Order requiring masking in schools. Earlier this week, Governor Wolf announced that the state mask mandate for schools would be lifted effective January 17, 2022, and that the decision on masking would be returned to local school districts. Today, the Commonwealth Court ruled that the mask mandate issued by the Acting Secretary of Health on August 31, 2021 was void. Although this would legally end the state mandate on school masking effective immediately, the Governor has filed an appeal to the Pennsylvania Supreme Court challenging the Commonwealth Court Ruling. Due to laws surrounding the appeal process, the current mandate will stay in effect until the Pennsylvania Supreme Court provides further information. Consequently, masking will remain in effect until further guidance is provided.


Congratulations to the football team for qualifying for the WPIAL playoffs. WB will travel to Geneva College Friday night to take on Beaver Falls at 7pm. Student tickets can be purchased online for $5 at
https://gofan.co/app/school/PA68325
or at the gate for $7.

Fairview welcomes Pepper to our Hand-washing Assembly. Thank you to Steratore Sanitary Supply for their presentation.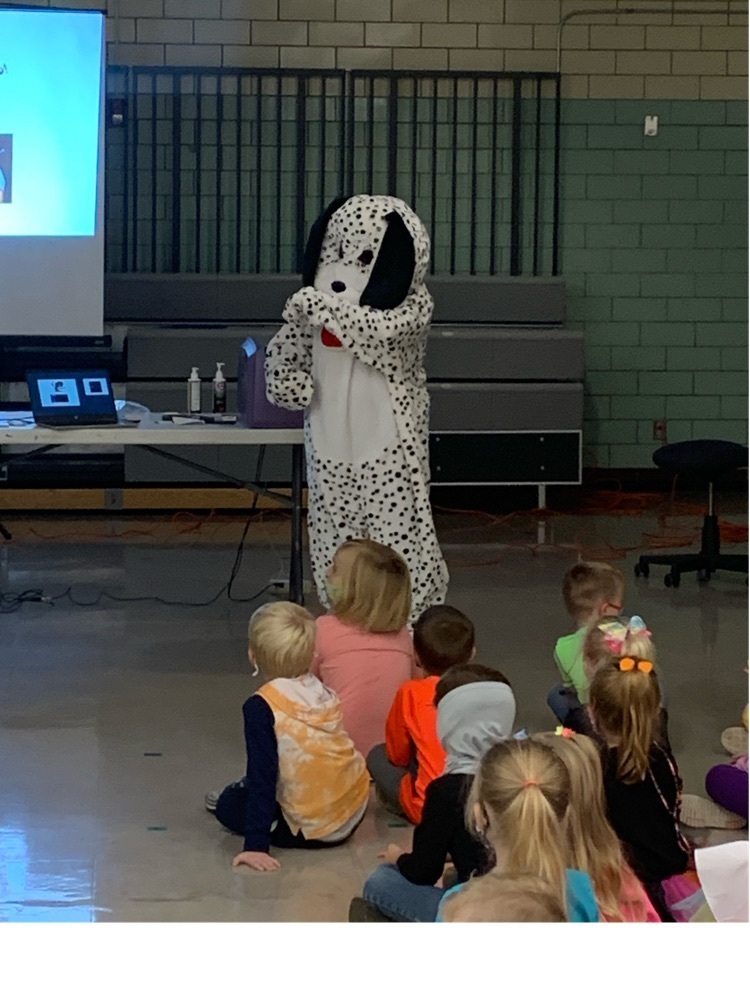 Red Ribbon Week Oct 25-29th Monday-wear your favorite hat Tuesday- wear something red Wednesday- wear neon colors Thursday- wear pajamas Friday- wear your Halloween costume
In observance of Columbus Day, there will be no school for students on Monday, October 11th.

Papa John's pizza tomorrow! Extra slices are $1.25 each. To put funds into student accounts, you may send in cash or check with your student or use our online option at myschoolaccount.com. **Pre-K is not permitted to charge any extras.


Effective starting September 7, 2021, Acting Secretary of Health, Alison Beam, along with Governor Wolf announced an order that all students and staff are required to wear a face covering when indoors. Please visit
www.westernbeaver.org
for more details.
Fairview Pick Up Procedure for 2021-22. If you are picking up your student at the end of the day, please arrive by 2:40. Fairview staff will begin taking names at 2:30 at the front door. Parents will remain outside and students will be brought to the front of the building as a group at 2:45. **Fairview will not be having a drive thru pick up this school year.**

Part of the wrap up to the 2020-21 school year involved a different kind of Storywalk this year. While we surely missed seeing all of the families come to enjoy the activities, it was still a day of fun and excitement. A huge thank you to Ms. Sobeski and all of the others who helped to make this day great for our staff and students! Follow the link to get a peek at our event:
https://www.westernbeaver.org/o/elementary/page/fairview-storywalk

Voting ends this week for the SCHOOL SPIRIT CHALLENGE! Let's show everyone that we are the BEST! Click the link, cast your vote, and be automatically registered to win a $100 Amazon gift card! As of today, Western Beaver was leading in votes!
https://highschoolspiritchallenge.com/challenge/?cid=WXPSZHW


Reminder: The Western Beaver County School District will operate on a 2-hour delay schedule this Friday, May 21, 2021.