From all the staff at Western Beaver - ENJOY your summer break, be safe, and have fun! Follow the link for a peek at the amazing time we had at our Fairview Fun Day this year!
https://www.yout-ube.com/watch?v=PXXTmiSxlwM

Here's a look at WB's Class of 2022 Senior Parade at Fairview Elementary. Congratulations and best of luck to all of our graduates!
https://youtu.be/I6U0SpO_clk

Western Beaver has won 5 Mancini awards for this year's musical Sweeney Todd! Western was nominated for 9 awards and won in the following 5 categories: Best Lighting Design Best Scenic Design Best Ensemble Best Execution of Direction Best Musical Five is the most awards that Western has ever won for a single show. Western Beaver couldn't be more proud of the students, faculty, families, and community members who made the production of Sweeney Todd a success!


We are now accepting Pre-K applications for the 22-23 school year. To apply please visit the Forms Tab and select the Pre-K Enrollment Application. Any questions please contact Jennifer DuBrowa at (724) 643-9310 x4018 or
jennifer.dubrowa@westernbeaver.org
.

ALERT UPDATED: Western Beaver will be operating virtually Thursday AND Friday, February 3 - 4. Please see the News section of our website or app for more detailed information.

ALERT: The district will continue to monitor what appears to be a significant weather event that may impact the ability to open school on Thursday and potentially Friday. Should we have to cancel in person learning, we plan to have students participate in live virtual learning. Should there be significant power outages, information will be shared for students to participate in asynchronous learning opportunities. We are providing this information so that parents can prepare should we have to cancel school for multiple days. As weather is such a fluid event, please continue to monitor the Western Beaver website for any changes and/or updates to our schedule. Decisions will be made as early as possible to provide families significant time to prepare.

Congratulations to the Cheer/ Football Athletes who received awards at the annual WB Football-Cheer Banquet. Left to right: Meghan Roach (Cheer Scholar Athlete), Zach Schwarz (Wickline Inspirational Player Award), Thad Gray (Golden Helmet Award), Brayden Miladin (FB Scholar Athlete), Lonnie Craft (Niedbala Leadership Award). WBHS is very proud of these student athletes and their accomplishments.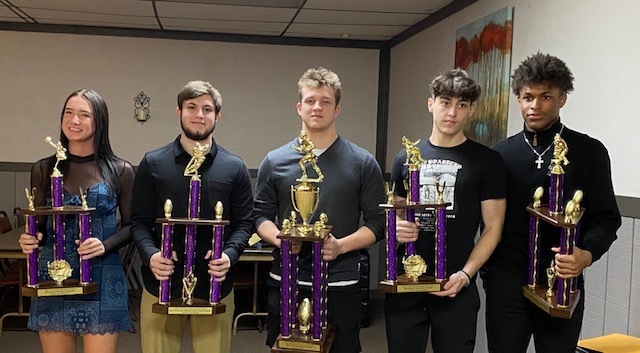 The Pennsylvania Dept of Health issued updated guidelines Friday after school regarding isolation and quarantine. This will affect anyone that has been exposed to a positive case of covid in the home and anyone who was slated to return to school on Monday from quarantine. Please visit the News section on the WB website or in the WBCSD app for more information on this updated guidance. As always, we thank you for your cooperation during these trying times.


In case of shut down due to Covid protocol, please use the link below to sign up for meal pick up or delivery on these virtual instruction days. All meals are free and available to any children ages 1-18 in the household.
https://forms.office.com/r/PtF2H1f8BG


The Western Beaver County SD wishes you and your family a Merry Christmas and a Happy New Year. Enjoy the Christmas break, and we will see you on January 3rd when classes resume.
Dear Families, Western Beaver School District has become aware of a troubling post that has been shared widely this week on the social media platform TikTok. The post refers to a threat to school safety "for every school in the USA, even elementary," on Friday, December 17. The post appears to be part of a national TikTok trend and did not originate in our school district. We have heard reports from other districts that the same post is circulating in their schools. While we do not believe the threat to be credible, we are closely monitoring the situation and taking it seriously. Additionally, the district has been in contact with the Beaver and Ohioville Police Departments regarding the post. We may have an increased police presence in and around our buildings on Friday as an added precaution. This situation serves as a good example of why it is important to avoid sharing posts online that refer to school safety threats. Even if they are not credible threats, they can cause a great deal of stress and anxiety for our students, families, and staff. We ask our families to monitor their children's social media activity and speak with them about proper behavior online. If you or your child become aware of any potential threat posted to social media or anywhere else, please notify a school staff member or trusted adult right away. As always, thank you for your partnership as we work to ensure a safe, secure, and positive learning environment for our students.

On December 10, the Pennsylvania Supreme Court struck down the Acting Secretary of Health's school masking order. The guidance provided to districts is that they should follow their approved Health and Safety Plan. As students and families consider whether to mask, you should take into consideration the county transmission level and the percent positivity at this time. Information regarding Pennsylvania county transmission rates and percent positivity can be found below:
https://www.health.pa.gov/topics/disease/coronavirus/Pages/Monitoring-Dashboard.aspx
Western Beaver's approved Health and Safety Plan can be found below:
https://core-docs.s3.amazonaws.com/documents/asset/uploaded_file/1391001/Approved_Plan_July_14_2021.pdf
Additionally, students and families are reminded that districts are still required to conduct contact tracing, exclude from school any student/staff that are, based on CDC and PA DoH definition, deemed to be in close contact to positive cases. Students and families are also reminded that the lifting of Pennsylvania's masking order does not lift the federal masking order requiring all passengers on public transportation are to be properly masked.

On behalf of the Western Beaver faculty, staff and administration , we wish you and your family a Happy Thanksgiving! School will resume Tuesday, November 30th.

November 11, 2021 - Masking Update There has been a great deal of activity in the courts and through the Governor's Office this week regarding the August 31, 2021, Acting Secretary of Health Order requiring masking in schools. Earlier this week, Governor Wolf announced that the state mask mandate for schools would be lifted effective January 17, 2022, and that the decision on masking would be returned to local school districts. Today, the Commonwealth Court ruled that the mask mandate issued by the Acting Secretary of Health on August 31, 2021 was void. Although this would legally end the state mandate on school masking effective immediately, the Governor has filed an appeal to the Pennsylvania Supreme Court challenging the Commonwealth Court Ruling. Due to laws surrounding the appeal process, the current mandate will stay in effect until the Pennsylvania Supreme Court provides further information. Consequently, masking will remain in effect until further guidance is provided.

Congratulations to the football team for qualifying for the WPIAL playoffs. WB will travel to Geneva College Friday night to take on Beaver Falls at 7pm. Student tickets can be purchased online for $5 at
https://gofan.co/app/school/PA68325
or at the gate for $7.

Student Council will be supporting a food drive sponsored by the WPIAL at the varsity football game tomorrow, October 16th. Fans are asked to donate non-perishable items at the gate upon arrival. All donations will benefit the Greater Pittsburgh Community Food Bank. The school collecting the most items in Class 1A will be recognized during the annual WPIAL Sportsmanship Summit with a banner of achievement. Your efforts in supporting this food drive are greatly appreciated!